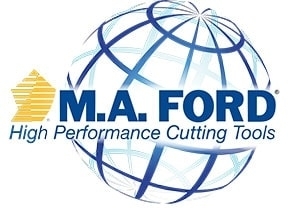 Visit online
Proud manufacturers of versatile cutting tools and customized products
Majac Tooling Supply Ltd in Barrie, Ontario provides M.A.Ford end mills, drills, countersinks, and reamers across Ontario. An institution since 1919, the company has grown leaps and bounds in offering high-quality cutting tool solutions and has its own research and development center in Davenport. Product line includes end mills, drills, burs, countersinks, PCD, routers, chamfer mills, and more. Committed to quality and maximum efficiency, M.A.Ford has the distinction of being designated an essential business during the COVID-19 pandemic. Apart from their top-notch product range, the company also offers extensive customization including technical assistance and emergency tool service.

Majac Tooling Supply Ltd in Barrie, Ontario distributes M.A.Ford High Performance and General Purpose end mills, drills, Solid Carbide reamer, and more. Contact Majac Tooling Supply Ltd today to browse through our catalogue.

Our Vendors
Trusted vendors ensure quality and better output. As a result, we provide a bevy of top-shelf vendors.